Thank you for showing an interest in our Competitive Program. All American's Competitive Team has a long-standing tradition of outstanding gymnasts. Many of whom have participated in numerous State, Regional, and National qualifiers. We are honored to have many State and Regional Champions. We are very pleased with all of our competitive gymnasts, no matter what level they achieve. The time and commitment it takes for a gymnast and her family to become a competitive athlete is something to be cherished and not taken lightly. We realize the dedication of our team and hope that all of our girls know how proud we are of them!
Compulsory Teams
(Levels 3 – 5)
Our Compulsory Program is in accordance with USA Gymnastics Junior Olympic Program.  Levels 1-2 skills are mastered within our Recreational Program, with our Competitive Gymnastics Program starting at Level 3.  Our Compulsory gymnasts are Levels 3-5 and are personally invited to join our Competitive Program from our Recreational Program.  These girls workout on average 7 ½ to 10 hours a week and compete in local competitions (Houston Area) with the ability to qualify for a State meet at the conclusion of their competitive season.  The Compulsory Season is August – December, but with year-round level progressive training on all events: Vault, Uneven Bars, Balance Beam and Floor Exercise.  A Compulsory gymnast is a gymnast who is trying to perfect a nationwide set of routines set by USA Gymnastics.  Every gymnast in the country has to perfect these routines before moving to a higher level and are judged on their mastery of these routines.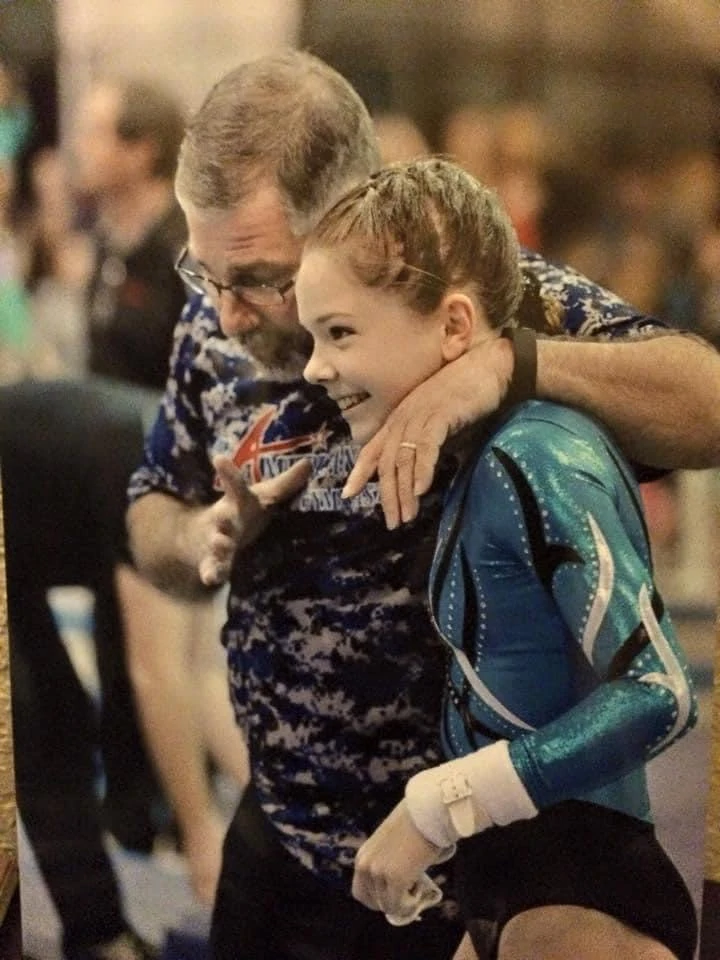 Optional Teams
(Levels 6 – Elite)
Our Optional Program consists of gymnasts at the competitive Levels 6-Elite. These girls have progressed through the Compulsory Levels, with a complete mastery of these levels to move to the Optional Levels. Our Optional gymnasts compete December – May against girls at the State Level, Regional Level (The States of Texas, New Mexico, Arkansas, Oklahoma, Kansas, Colorado, and Wyoming), at Westerns (west ½ of the country), and eventually at the National Level. Our Optional gymnasts' workout on average 22 hours a week and train year-round for skill mastery on all events: Vault, Uneven Bars, Balance Beam and Floor Exercise. An Optional gymnast is no longer trying to master a national routine, but individual routines judged on skill mastery, artistry, and difficulty.
Our Competitive Team has a wonderful parent support group called the All American Gymnastics Booster Club or AAGBC.  Our Booster Club's mission is to promote and support a strong relationship between the coaches, our competitive gymnasts, parents and our community.  The AAGBC has monthly meetings and all Team Parents are encouraged to attend.  Our Booster Club provides many outstanding activities for our coaches and team members.  Just a few of the special Booster Club supported activities are our yearly banquet, our annual swim party, Class Meet Concessions & programs, Spring Fling Concessions & programs, coaches travel expenses, Festival of Lights Parade Float, and all team fundraising efforts.  All of our Team Members' Parents are welcomed on our wonderful Parent Club.
Annual Enrollment fee $70
 **Please note that all students placed on the waiting list will be placed in classes as space becomes available.  We will not overload our classes and lose the integrity of our program.**